Welcome to Ms.Moran's Classroom
School Tour
All of Junior and Senior Infants visited The Farmyard near Ennis for their school tour. It was a wonderful day from start to finish.All of the children were very excited to get on the big bus that came to bring them on their tour. When we arrived we has our break and then we went off on a tour of the farm with the farmer. We saw an old farmhouse , a pump house , a badgers sett and lots of animals. We fed the hens , collected eggs and then we got to feed the animals. We fed a horse , some donkeys , the lama's , some sheep and some pigs. We met the farm cat and dog and we got to hold some puppies. After lunch we made butter and got to play in the playground. We ended the day with a wellie throwing competition. It was so much fun!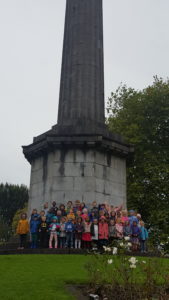 Nature Walk in the park
We went to the park this term on a nature walk. Junior and Senior Infants joined First class one dry day in September and we headed off on our adventure. It was lots of fun! We got to walk around the park. We say the dog warden and because we were so well behaved we got the play in the playground.
St.Brigid 
Brigid is one of Ireland's earliest recorded saints, and along with St. Patrick, one of our most famous. It is thought she was born sometime between 452 and 456 AD in Faughart, a few miles from Dundalk in Co. Louth. The 1st of February is St.Brigid's Day. Take a look at our pictures of St.Brigid's Cloak.
Look at our winter snowman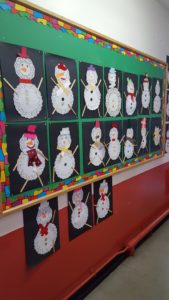 Winter time is here and we are learning all about the seasonal changes in our classroom.
We have learned about the different kinds of weather that we have during winter and we have talked about how winter affects animals. We have learned about animals who live in cold climates for example the polar bear.
We also made some snowmen. We are hoping that it will snow soon and that we can make some snowmen.